The Architectural Process
The main idea behind the restoration project of this 19th century villa was to respect and revive the place's genius and its essence.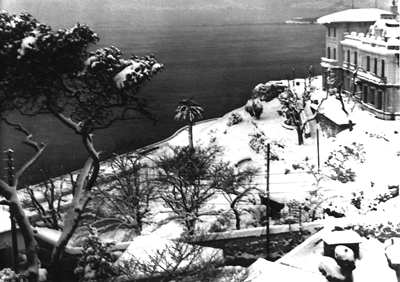 The architect's and craftsmens work was rather a restoration of the place more than a simple renovation of it. The first move was to correct the destructured modifications made through the years to catch up as much as possible with the original volumes and patrimonial elements.

The charm of the building lies in its richly decorated facade as well as in its interior : stucco mouldings, fine floors and woodworks. As the essence of the different lounges is to be found in one or two decorating elements – essential, raw, obvious –, the guiding principle was to identify those elements and then restore the room around them while keeping it as simple as possible. Floor or ceiling mosaics, marble columns, woodworks...are elements that have been kept and restored.

In the Traquandi lounge for instance, the old decors' « ghosts » have been kept in their almost raw aspect and fixed with simple varnishing. Thus, marks of modifications over decades, forms and colours, are being retained and remembered. The choice of the artist Gérard Traquandi, who fully collaborated with the architect, Raphaël Mougel, on setting the lounge's atmosphere, was made in order to honour the spirit of this unique place. His own work is known for suggesting via marks and imprints and using rather removal than addition of material. In exhibiting some of his pictorial work in this lounge, the artist draws a link between the architectural process and his own approach.

This effort of simplifying the whole decor being done, the architect's main concern was to manage to combine 19th century architecture with a more contemporary approach. One of the leading principle in the restoration of the Villa Gaby was to offer this « jewel of the Corniche » a new life cycle, between simplicity and modernity. Thus, by choosing modern art, specific furniture, lighting and decoration, the architect created a link between the Villa's past and present life.
Maîtrise d'ouvrage : Groupe MCO
Maîtrise d'oeuvre : Raphaël Mougel / Architect DESA (Design)
Gérard Traquandi / Plasticien
Entreprises : BATIPTOP / SLVR / STEMA / MENUISERIE FLAYOL / ISOLBAT / PRODETECH / RENODEAU / DOUSSIERE